Render Passes¶
Render passes, often referred to as AOVs (Arbitrary Output Variables), provide a way to render the final output into a set of separate shading elements that describe various aspects of the scene, such as direct and indirect illumination, types of lighting and reflections, ambient occlusion and many others.
Render passes give a more precise control over the rendered image for compositing and postwork. They provide a cheaper alternative to re-rendering the entire image if only minor changes are needed — such as tuning lighting, changing the scene background or adjusting colors. In such cases, it is more efficient to modify isolated passes in Blender or your favorite compositing software, and then recombine them to get the final beauty image.
Beyond that, passes can help you achieve effects that would otherwise be difficult or even impossible in physically based rendering.
Including Passes in the Render Output¶
To include one or more passes for the final render:
Make sure that AMD Radeon ProRender is set as the active render engine in Blender.

For details, see Switching to Radeon ProRender for Blender.

In the Blender Properties editor, switch to the View Layer tab.

In the RPR Passes panel, select the passes that should be created along with the final image.

Note that more passes give finer control over the image but require more render time, memory and storage resources.

Perform the final render.

For details, see Final Render.

After the final render completes, follow your standard compositing workflow.
Tip
Different render passes can be included into different View Layers in Blender. In some scenarios (like when you need to change only small details) this might save time as instead of re-rendering the entire image with all the passes you need, you can re-render a separate View Layer with selected passes only. For details on working with View Layers, see the Blender documentation.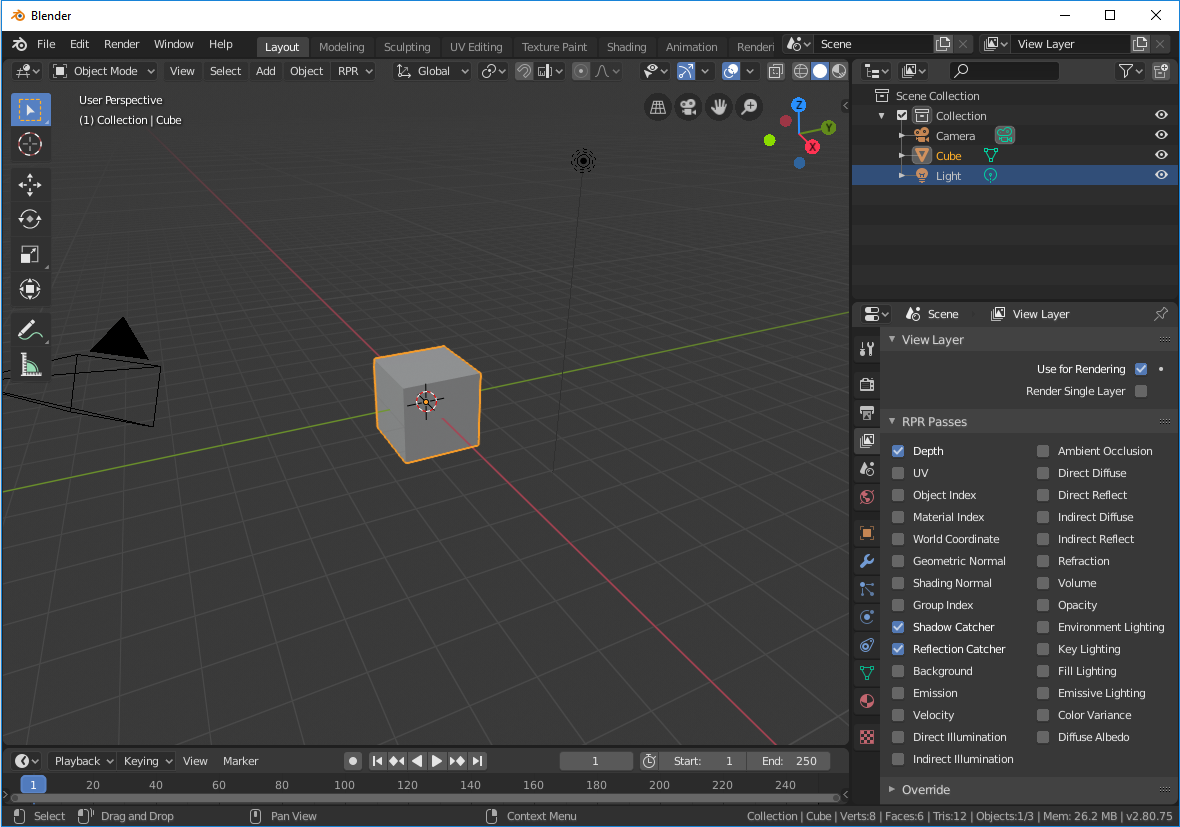 RPR Passes¶
AMD Radeon ProRender offers the following render passes.
Camera Normal¶
The Camera Normal pass renders surfaces based on their orientation relative to the camera. This pass provides normals in the camera space, not the world space.
Diffuse Albedo¶
The Diffuse Albedo pass renders the pure diffuse color of the object surfaces in the scene. This pass is particularly useful as many denoisers use it to separate noise from texture details.
Crypto Object and Material¶
The Crypto Object and Material passes are equivalent to Blender's Cryptomatte pass. They allow you to efficiently create mattes for compositing using the Cryptomatte standard.
AMD Radeon ProRender offers six passes for the six default crypto layer outputs available in the Render Layers node - 3 Crypto Object and 3 Crypto Material passes. The typical workflow in Radeon ProRender is similar to the one artists use in Blender.